Business Case For A Custom Software: Forever Gifts Catalog System
by William S..
Saturday, February 18, 2017
Forever Gifts' quick rise to success caused it to be overwhelmed by the numbers of product to track.
Forever Gifts' own attempt to create a master catalog was ridden with human errors and data corruption.
New Catalog System eliminates data corruption and improved efficiency by greatly reduces the time required to generate a quote sheet.
Quote Sheet creation now takes minutes, while exporting to Excel and Power Point is only a click away.
The Problem
Forever Gifts Inc. is a rapidly growing B2B company that designs and manufacture garden decorations and solar powered lights. The company successfully established strong business relationships to well known retailers such as Walmart®, Bed Bath & Beyond®, Home Depot®, and more. As Forever Gifts' business grew, the amount of products and orders also rose tremendously.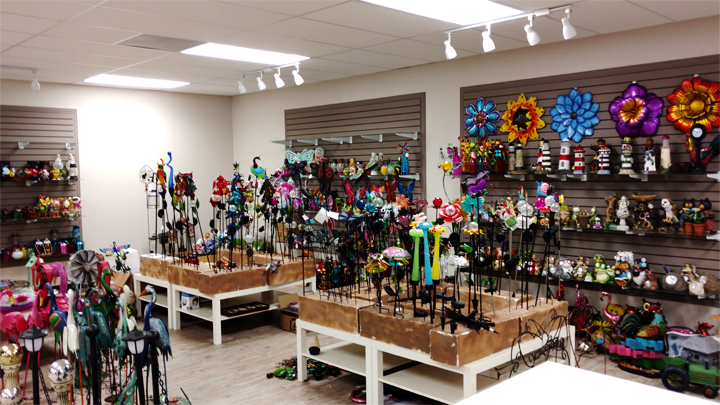 Forever Gifts soon faces the rising problem of keeping products in track. As a first attempt to set up a master catalog, Forever Gifts attempted to track all of its products in a single master Microsoft® Excel document, which worked for a short period of time. However, this catalog file quickly becomes too cumbersome and difficult to keep up-to-date. Product codes and information get misplaced due to editing mistakes. Furthermore, multiple users using the same file cause the file to be corrupted, which results in a costly data loss for the company.
Creating a quote sheet manually was a tedious and time consuming process, which can take 3-4 hours to create.
On top of the data consolidation need, the company needs to create quote sheets of products to show their customers. Creating a quote sheet manually is a time consuming process, which requires their employees to locate specific product info from their Microsoft® Excel master catalog document, copy, and paste them into a quote sheet. A typical quote sheet would take an employee hours to set up and create. In addition to the length of time needed to create these quote sheets, at times the quote sheet produced contain mistakes and mispricing information, which sometimes did not get discovered until it is too late.
The Solution
Forever Gifts needs a custom Catalog System software that allows their employees to query product in one accessible catalog, complete with product images, dimensions, pricing, packaging, and shipping information. The system also need to be accessible by their staff and agents. Forever Gifts also need the software to have export capabilities, to provide Forever Gifts' employees to quickly select products and generate Microsoft® Excel Quote Sheets. Forever Gifts also wants the application to export to Microsoft® PowerPoint.
Varlain Systems worked closely with Forever Gifts to establish requirements specification for a custom catalog software. The new software would be called Forever Gifts Catalog System (FGCS). Our developers worked closely with Forever Gifts employees to develop FGCS to the agreed specification, building the application in Microsoft® .NET framework with a MSSQL database.
Leveraging agile methodology, Varlain Systems run development sprints and develop the FGCS software in small releases. Through agile, Varlain Systems was able to quickly deploy stable initial releases which allow Forever Gifts employee to test the capabilities of FGCS software. The first major release of the software immediately allows Forever Gifts employees to enter products into the catalog. The next release that follows sees the completion of quote sheet generation and Microsoft® Excel export, along with Microsoft® PowerPoint generation.
The Result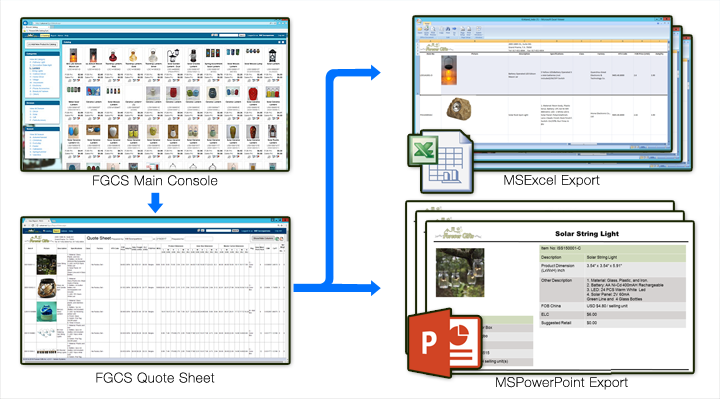 Right away upon its launch, Forever Gifts Catalog System (FGCS) provides an immediate return-of-investment (ROI) of time and cost savings. The new system allows Forever Gifts' employees and agents to quickly locate products from a single master catalog. Besides being easy to use, the new Catalog System also eliminate errors and corruptions caused by by multiple users accessing and saving a single master document. Furthermore, the new system also allows Forever Gifts employee to add products to their own quote sheets with a click of a button. It also provide users the ability to save the quote sheet to generate on a later date at any time.
Varlain Systems interviewed Forever Gifts employees with regards to their experience. From the feedback gathered, we were able to determine that generating a new report now takes them about 30 minutes, whereas it used to take 3-4 hours, a 700% improvement . After its initial creation, exporting a quote sheet to Microsoft® Excel now takes seconds, a huge improvement of 99.9% in efficiency. On top of that, exporting the same data to Microsoft® PowerPoint is also only a click of a button away.
New Quote Sheet creation now only takes 30 minutes, and can be exported to Excel and Power-Point in a click.
It is clear that the new system has saved Forever Gifts hundreds of hours ofemployee time, spent on menial tasks of generating quote sheets manually. Furthermore, the new system can also generate a printable power point complementary to the quote sheet being produced, which in turn allows Forever Gifts to provide quicker turnaround to their customers.
We Want To Help You Too
Varlain Systems is extremely pleased to have been able to work with Forever Gifts. We also look forward to assist your business improve efficiency and reduce cost through IT. Contact us today and see what IT can do for your business.